Calendar Editor
The Calendar Editor is used to define the high level characteristics of your calendar and to launch the generation of your Google calendar.
Publishing a Google Calendar
To publish a Google calendar give it a name, a start date, and an end date. Then press the publish button.
<![if !vml]>
<![endif]>
At this point CalendarPlant needs access to your Google calendar data. If you have not previously granted access, an error dialog will be displayed asking you to grant access. You are then logged off of Calendar plant. The next time you log on you will be asked again to grant permission to access you Google calendar data.
If you have granted access, you will notice an animation in the Status Bar at the bottom of the page that will stop when publishing has completed.
Calendar plant will never overwrite a calendar that you have not previously generated with CalendarPlant. If you give a name of an already existing calendar not generated by CalendarPlant, you will get a second calendar of the same name.
<![if !vml]>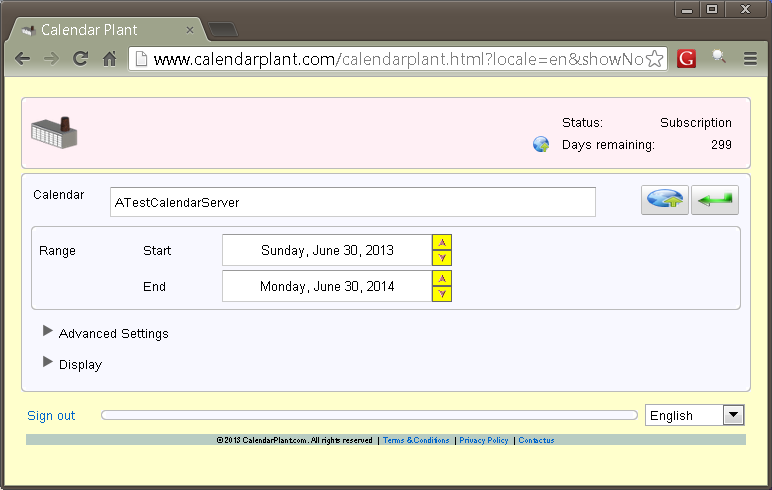 <![endif]>
Advanced Settings
You can choose to display days as all day events in your Google calendar. If you specify this option you can choose to show all days or just first day and overnights. Showing first day and overnights is useful for creating less cluttered Parenting Plans.
Calendar Plant maintains the ID of the last generated calendar. If you have not changed the name of your calendar and you select this option, CalendarPlant will delete the previously generated calendar before reconstructing it. If you do not select this option you will get another calendar with the same name.
<![if !vml]>
<![endif]>
Display
Each constructed time frame is show in the display section. You can choose to selectively show or display time frames in the calendar. Be aware that showing or hiding time frames does not affect the calculation of prioritized time frames. It simply does not show that time frame in the calendar. You may choose to do this to make your calendar less cluttered. For example when constructing a Parenting Plan you may choose just to display Dad's weekends because it may be obvious that it is Mom's weekend if it is not Dad's
The columns of the display list are sortable and be sorted by ascending or descending order by picking the column headers. You can choose Hide or Show to hide or show the time frame in the generated Google calendar.
<![if !vml]>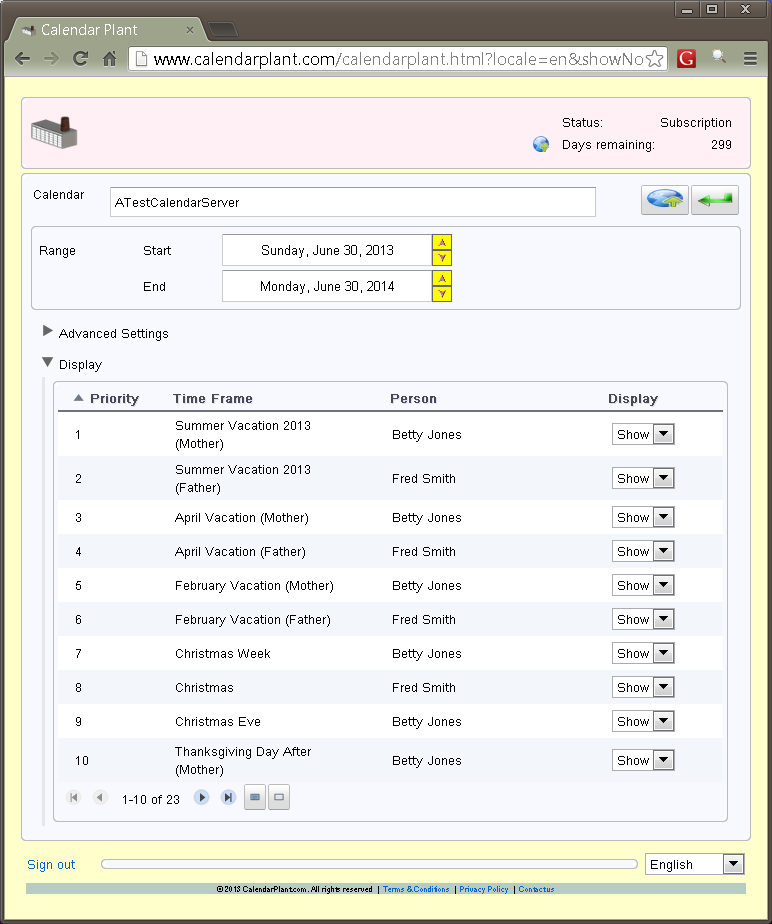 <![endif]>
Showing or Hiding All Time Frames
You can show or hide all toolbar items by using the Show All or Hide All buttons.
<![if !vml]>

<![endif]>
Display Pager
A maximum of ten time frames are show at one time. If more than ten time frames are constructed the page navigation buttons
<![if !vml]>
<![endif]>
can be used to view time frames not currently shown.
Returning to the Master Planner
To return to the Master Planner you can push the Return button.
<![if !vml]>
<![endif]>
You can also use your browsers navigation buttons. Any edited information will be saved on return.